Vas Avramidis: Community Apologist .:. Chaplain .:. Educator .:. Writer .:. Artist
Vas Avramidis works in the Church as a community apologist and teacher as well as working with Ratio Christi at Rutgers University in New Jersey as a Chapter Director and Chaplain. Avramidis had been teaching the Bible and Theology for almost fifteen years in various denominations, churches, and schools. He has a passion for apologetics and worldview studies, believing that it is not only important to know what you believe, but who you believe.
Biography
Avramidis is an artist, writer, and apologist who specializes in theological aesthetics, ecology, and comparative religion. As a former atheist, Avramidis immediately saw the need for strong apologetics teachings within the Christian community. "As an atheist, I found most Christians did not have a firm grounding in WHY they believed," said Avramidis, "when I was saved, I was made a firm declaration to always be ready to give a reason fro the hope that was in me." And thus a love of apologetics was birthed within Avramidis from his earliest days as a Christian.
Avramidis has a strong desire to work with College students, helping them broaden and deepen their fatih. It was in college that Avramidis originally lost his faith, becoming an atheist and communist. He hopes by working with college students, he can assist them in avoiding the same pitfalls that ensnared him. College is a perilous time for the faith of a young person; many challenges face them in those formative years: skeptical colleagues, antagonistic professors, and an assortment of temptations. Apologetics and a strong Christian community can help students retain their faith in the face of such challenges. This is exactly what Avramidis believes to be his true calling; Ratio Christi helps make this possible.
Vas Avramidis resides in Pittstown, NJ where he is married to Jana, an eight grade math teacher, with their two potbelly pigs Lulu and Charis. Avramidis is an aspiring homesteader, growing their own organic produce and chestnuts. Avramidis is also a community herbalist, primitive skills enthusiast, and a wild foods forager.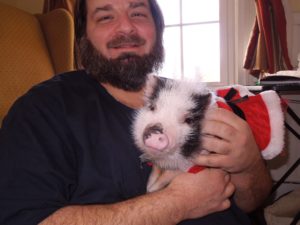 Education and Achievements
Vas Avramidis has been studying art and iconography for nearly twenty years. While he always liked to draw and create visual imagery, Avramidis began pursuing art as a wood carver and graphic designer. Being self-taught for most of his early career, in his 30's, Avramidis began to study art on the college level, enrolling first at a local community college and then at SUNY/Empire State for his bachelors degree in Visual Studies. Along the way, Avramidis studied privately with many established artists, including: Monk Lazarus, Jerry Certulo, Matt Archambault, Seraphim Roussopoulos, Vladislav Andreyev, and Maureen McCormack.
In addition to formal art training, Avramidis has studied theology; first under the guidance of monks with whom he lived while contemplating monastic vows, and later at the St. Elias Orthodox Seminary. Avramidis has since gotten married and been ordained to the priesthood in the Eastern Orthodox Church, a christian denomination with roots in the early church. It in this environment of prayer, tradition, and mediation that Avramidis first discovered a desire to create sacred art and iconography.
In 2013 and again in 2014, Vas Avramidis was awarded the Folk Arts Apprenticeship grant from the NJ Council on the Arts. The grant allowed Avramidis to continue formally studying Byzantine Iconography, a sacred arts tradition that dates to the 3rd century. Communicating the love of God through art is Avramidis' chief aim. His art seeks to find the beauty in ordinary life, to awaken our senses, and lead us back to Christ; for it is in Christ that "we live, and move, and have our being." (Acts 17.8)
In 2017 the New Jersey State Art Museum has requested one of Avramidis' icons to put on exhibit from February through August.
Education
SUNY/Empire State – BA Visual Studies
St. Elias School of Orthodox Theology and Seminary – Diploma in Theology
Worldview Weekend Institute – Apologetics Leadership Certificate